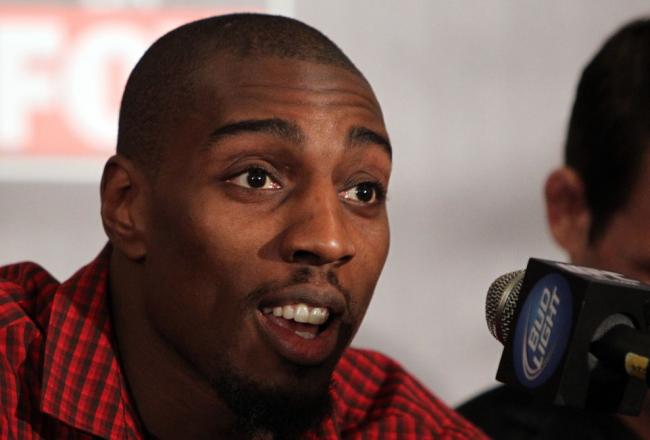 Not long after Davis' submission win over Prado, he stepped in for Chael Sonnen to fight Forrest Griffin at UFC 155, the promotion's year-end card in Las Vegas. But the month of the fight, Griffin was sidelined with a knee injury.

And bam. There was Magalhaes' opportunity – so Davis assumed. But it didn't happen, and Davis scratched from the card without an opponent.

"The problem with this fight game is, a lot of people like to talk, but not a lot of people like to fight," Davis said. "And if you call somebody out, you are obligated to fight them. That's the way this thing works. He called me out while I was still in Brazil. Forrest Griffin got hurt (and Magalhaes) doesn't want to fight me on three weeks' notice. At that point, you need to shut up. But that's part of the fight game – guys like to talk."

The timetable for Magalhaes, according to Davis was too short for him to cut down to 205 pounds. Instead, Magalhaes suggested a fight date that would give him more time to make the weight.

But that jacked up Davis' already jacked-up holiday plans, and he didn't think it fair to his family – or to himself – to rush it.

Instead, Davis found it odd that Magalhaes wasn't interested in fighting on a big pay-per-view card after just one fight back in the UFC.

"He's a fighter with one fight in the UFC, so just being on the main card should be a big deal," Davis said. "But being on one of the biggest fight cards of the year, co-main event, in the city you live in, and you already called this person out, so you're saying you want to fight this person – and you don't take that fight? I mean, there's only so many words I can call a person who would do something like that."

Davis did not elaborate on just what those words might be.

But it's quite safe to say he's up for the fight. He's been led to believe Magalhaes, with a full fight camp to prepare, would be down for the fight. And the consensus seems to be April.

Magalahaes is a decorated Brazilian jiu-jitsu black belt. Davis is a decorated All-American wrestler. But he also believes when it comes to the ground game, Magalhaes would come up short against him.

"Not only do I think I could take him, I'd have the advantage (on the ground)," Davis said. "In Brazilian jiu-jitsu, people have become so cocky that they think Brazilian jiu-jitsu is the end-all, be-all – and it's not. Brazilian jiu-jitsu is a fantastic art to learn, and it's an amazing skill to add to your arsenal. But sometimes, when you become too good at one thing, you become arrogant and you don't learn other things. Just to be 100 percent real about it, wrestling is a much stronger art form than Brazilian jiu-jitsu.

"Can I submit Vinny? Guys, we're getting crazy, here. Absolutely."

Eight of Magalhaes' 10 wins are by submission. But Davis is no slouch in that department, himself. Of his three UFC submission wins, one came against the highly regarded Alexander Gustafsson – Gustafsson's only loss.

But perhaps just as important to Davis as his confidence on the ground is his confidence that when it comes to pre-fight talk, you better be there to back it up.

"Not only will I fight him, but when I say I'll fight somebody, if you show up at my gym, we'll fight," he said. "If I see him in the parking lot at the UFC, we'll fight. Once I say we'll fight, it will happen when I see your face. There is no three weeks' notice, none of this silliness. If you can't fight, say you can't fight. But if you want to fight, then you have to take the fight."

Phil Davis wants to fight Vinny & says wrestling is a much stronger art form than BJJ